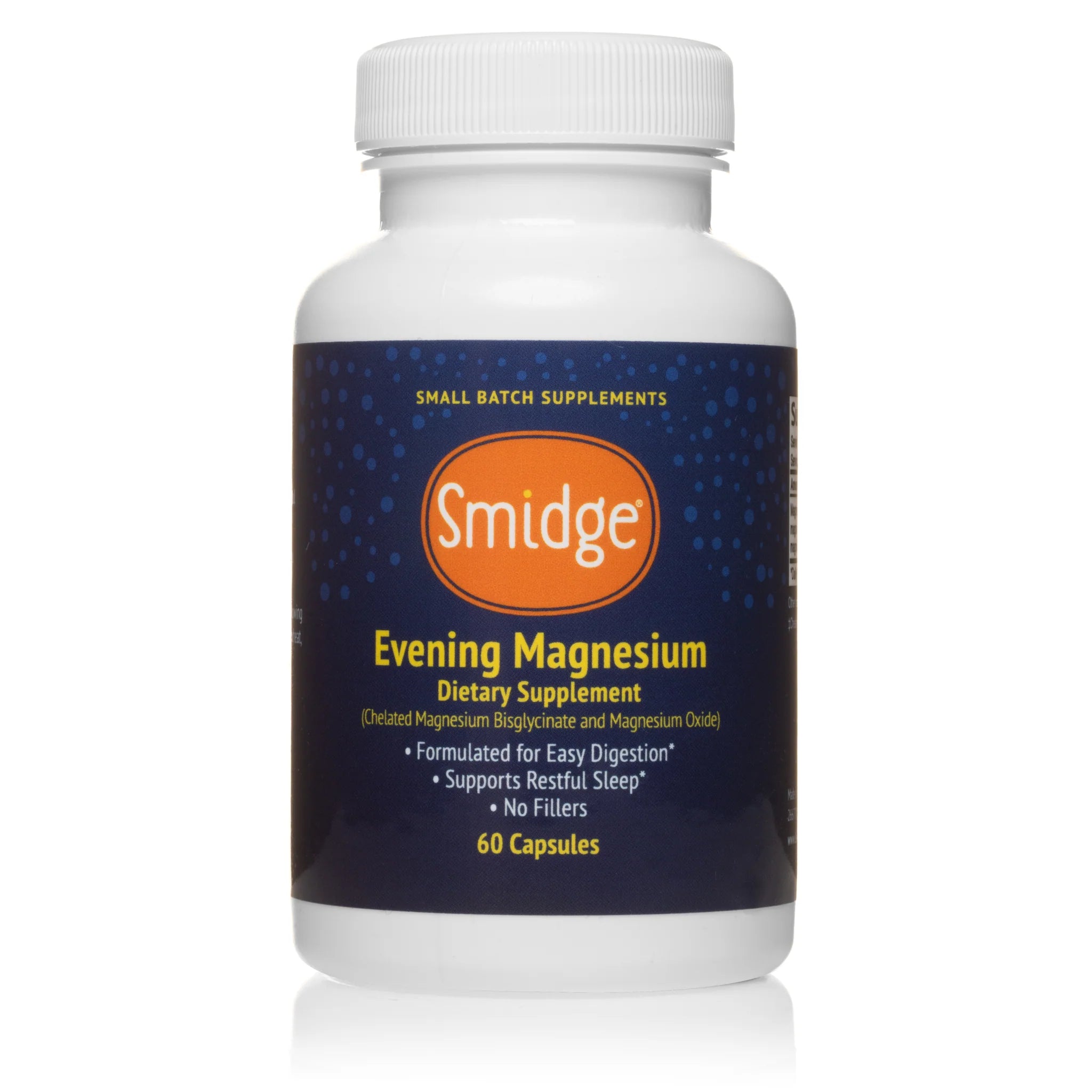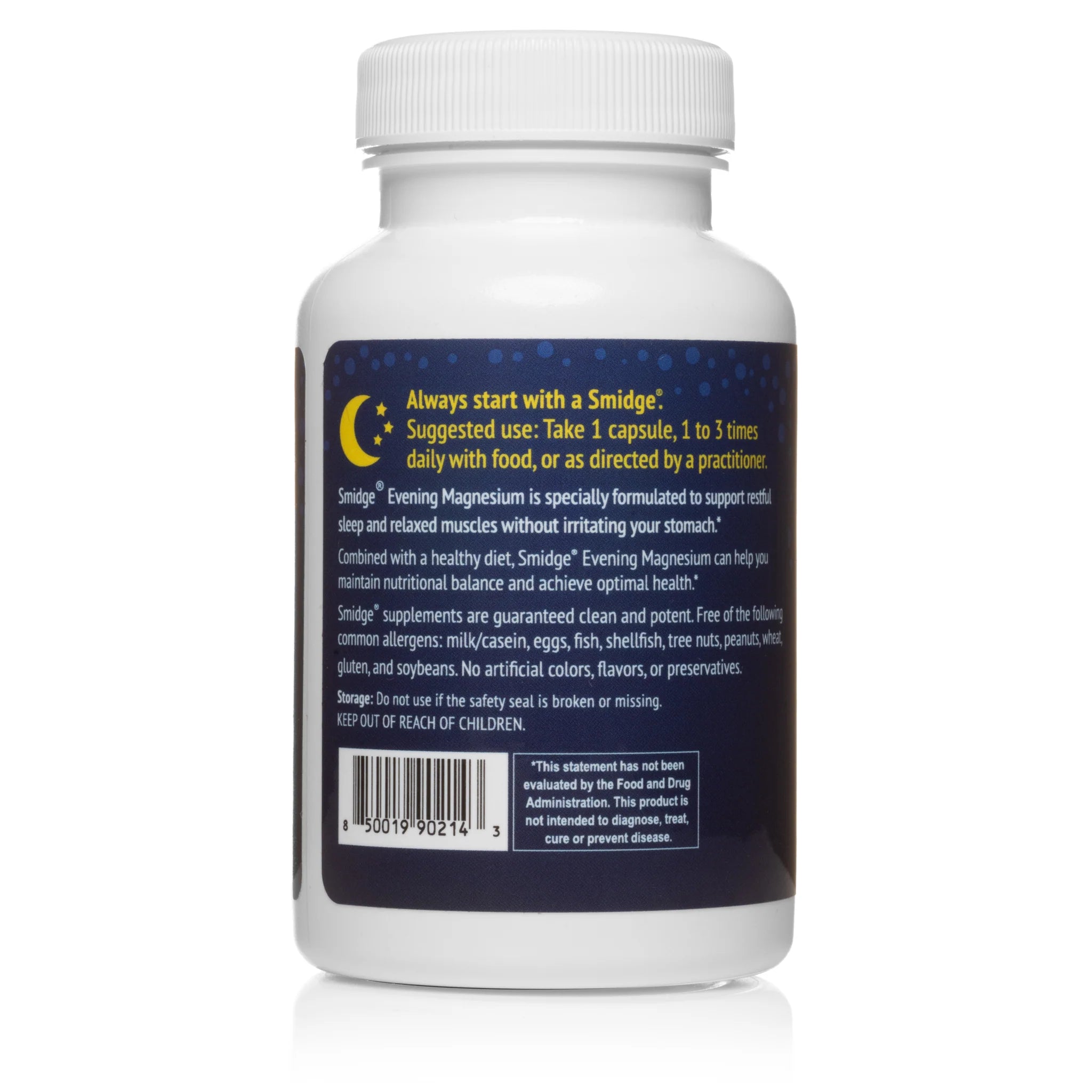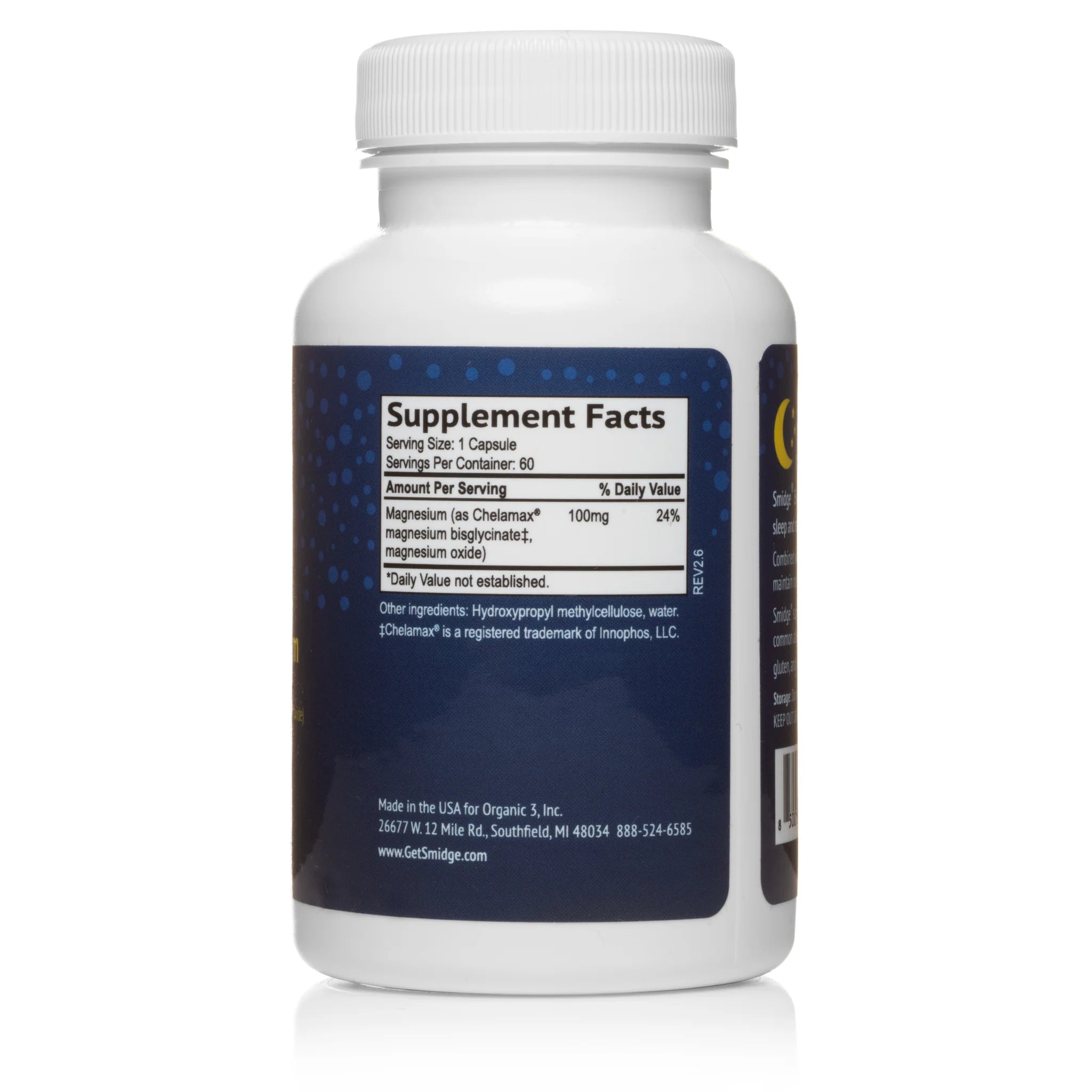 Evening Magnesium- Smidge
Evening Magnesium- Smidge
Gentle magnesium glycinate complex

Supports rest and relaxation*

May ease mild stress and leg cramps*

No fillers, additives or preservatives

Non-GMO

Free of common allergens
Smidge® Evening Magnesium is a gentle, calming supplement made with a premium form of magnesium called glycinate complex.  
All-natural and easily absorbed, Evening Magnesium helps you relax, sleep and wake up the next morning feeling refreshed — not groggy and foggy-headed, like with commercial sleep aids.*  
And unlike other magnesium supplements for sleep, our formula is super clean and made in small batches. This means no common allergens and additives that might interfere with a restful slumber and digestion. Plus, it doesn't include magnesium citrate, which may cause gastric upset. 
One capsule of Smidge® Evening Magnesium will begin to wind down your day, in addition to helping fulfill your body's essential need for magnesium. It also may help reduce feelings of mild stress and restlessness — and soothe sleep-disturbing leg cramps.*
100 mg of magnesium per capsule (as Chelamax® magnesium bisglycinate, magnesium oxide*)
60 capsules (2-month supply)
INGREDIENTS:
Magnesium (as magnesium glycinate complex)
Magnesium is a naturally-occurring mineral that's essential for nearly every system in the body, especially the muscles and nerves.
When magnesium is combined with the amino acid glycine, the result is magnesium glycinate. This combination makes the magnesium extremely bioavailable. The magnesium glycinate complex also includes magnesium oxide (see below).
Magnesium oxide
A form of magnesium, also known as magnesia, magnesium oxide is a solid white mineral. It's often recommended for heartburn and to ease symptoms of indigestion.* Magnesium oxide helps your body utilize the magnesium it has absorbed.
Vegetarian capsule
Hydroxypropyl methylcellulose (HPMC), water. Our vegetable (vegan) capsules consist of only two ingredients: HPMC and purified water. HPMC is derived from vegetable cellulose of either pine or poplar. 100% natural, these capsules contain no preservatives, no gelatin, wheat, animal by-products or starch.
Evening Magnesium- Smidge