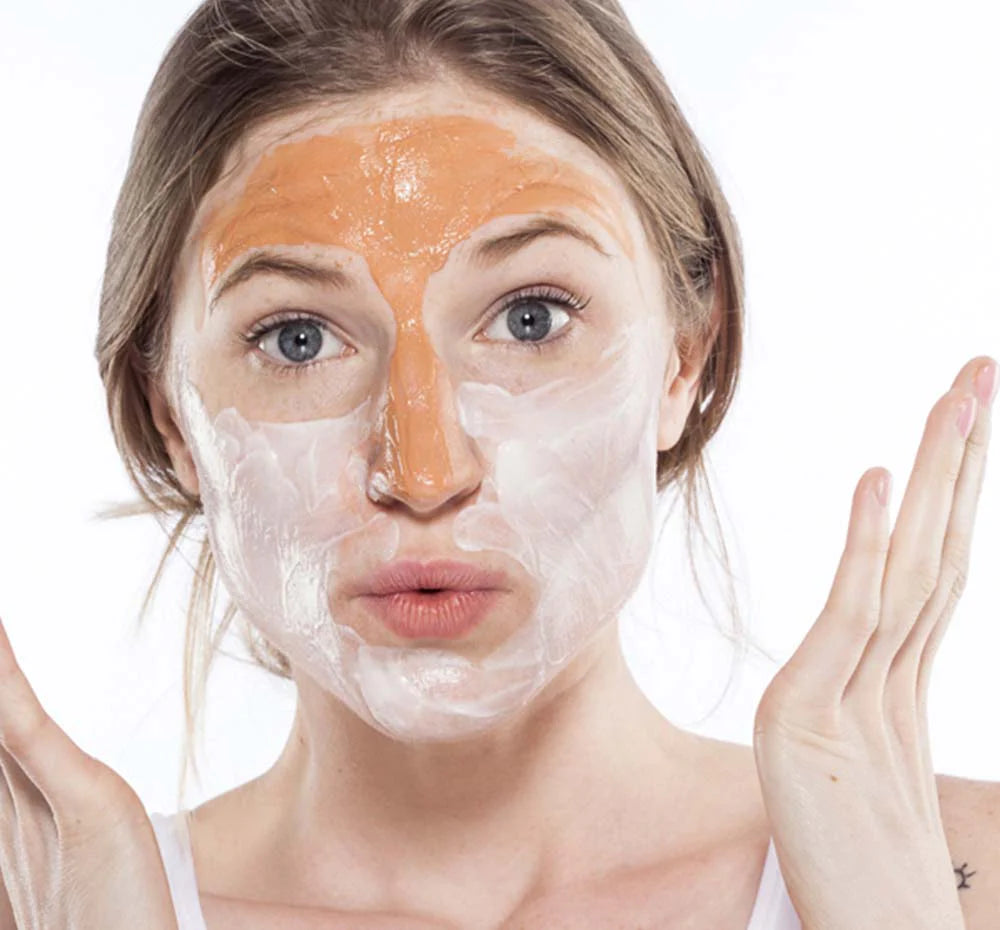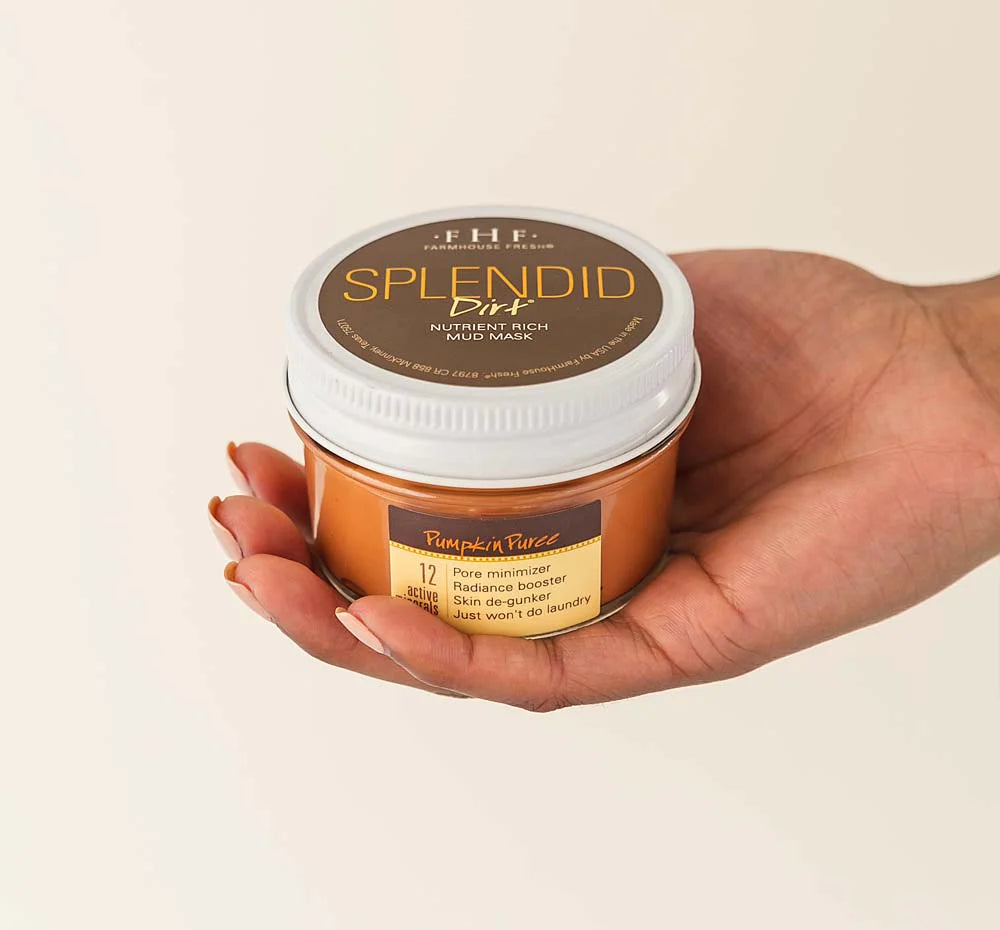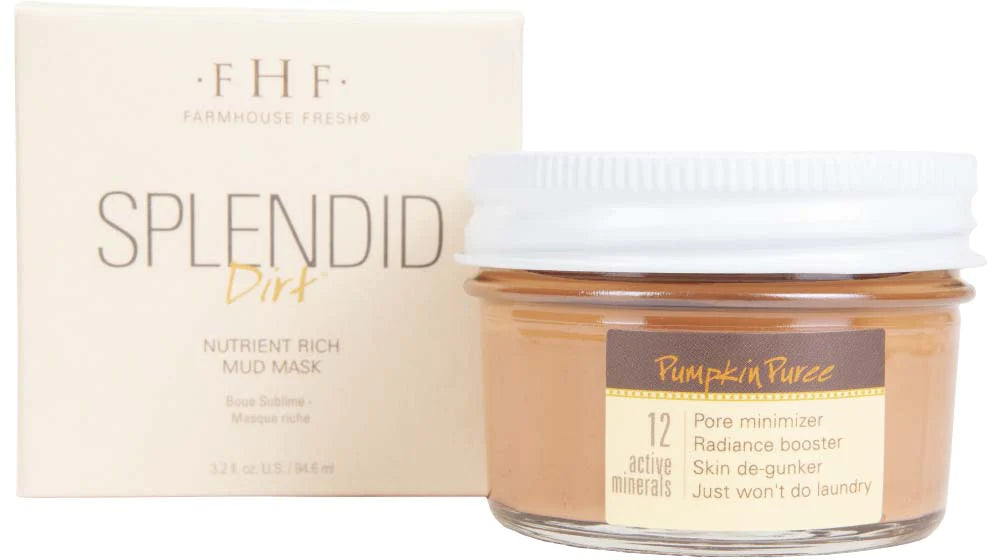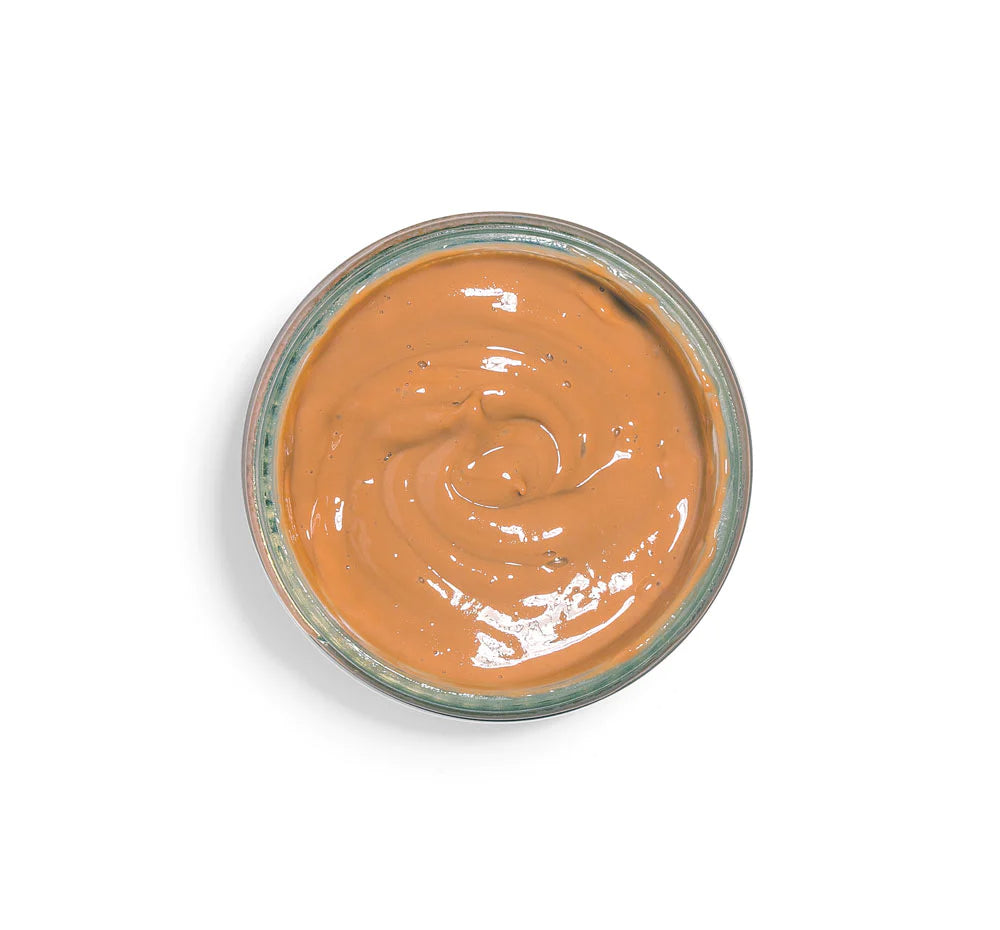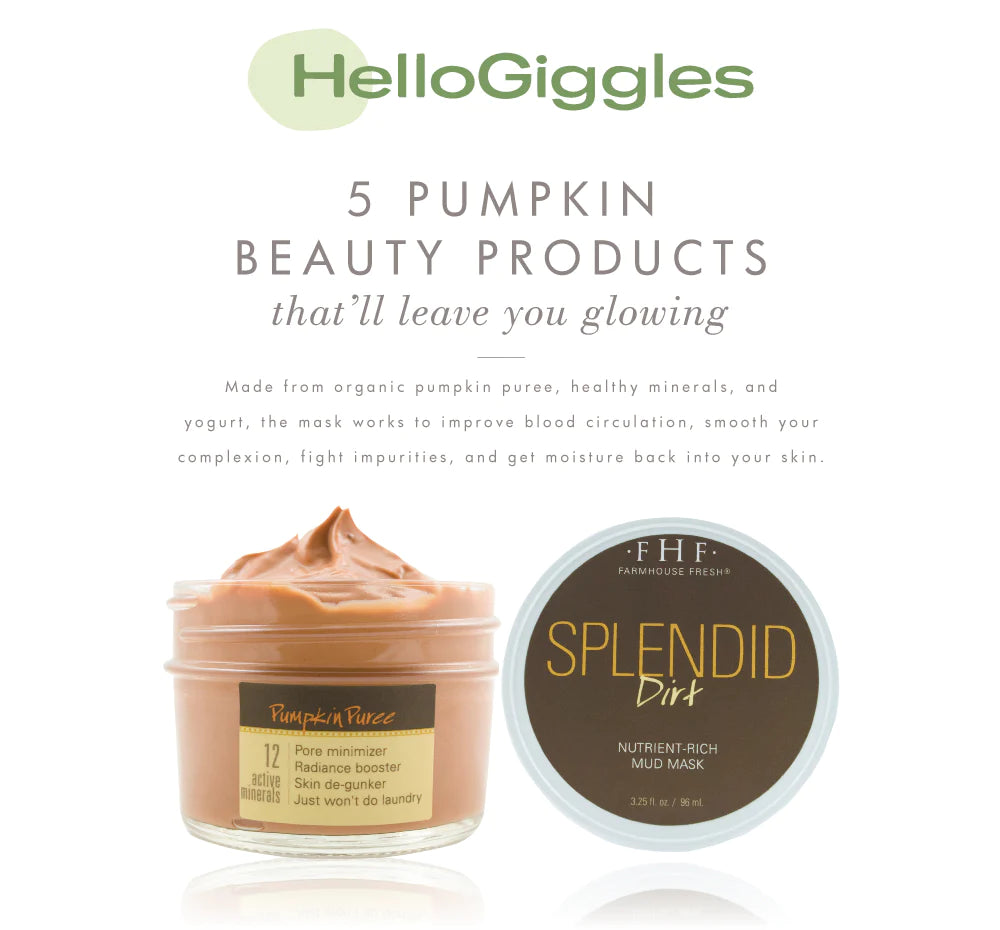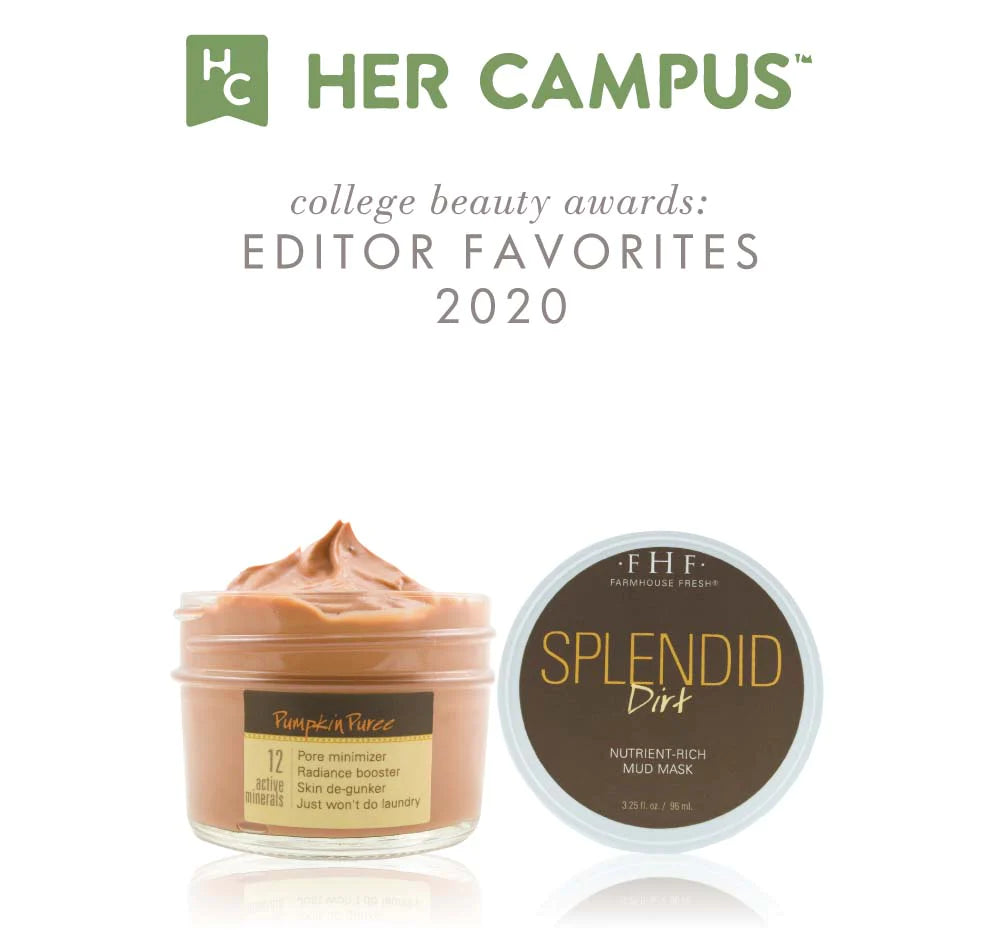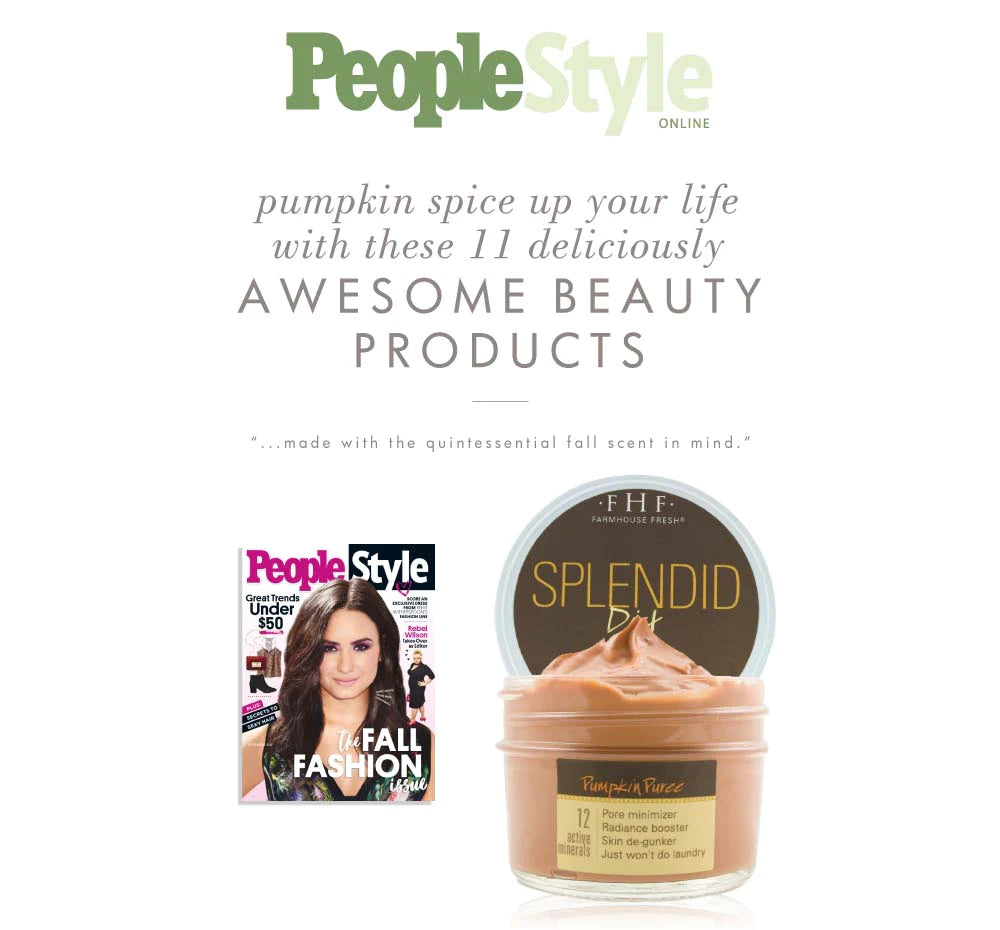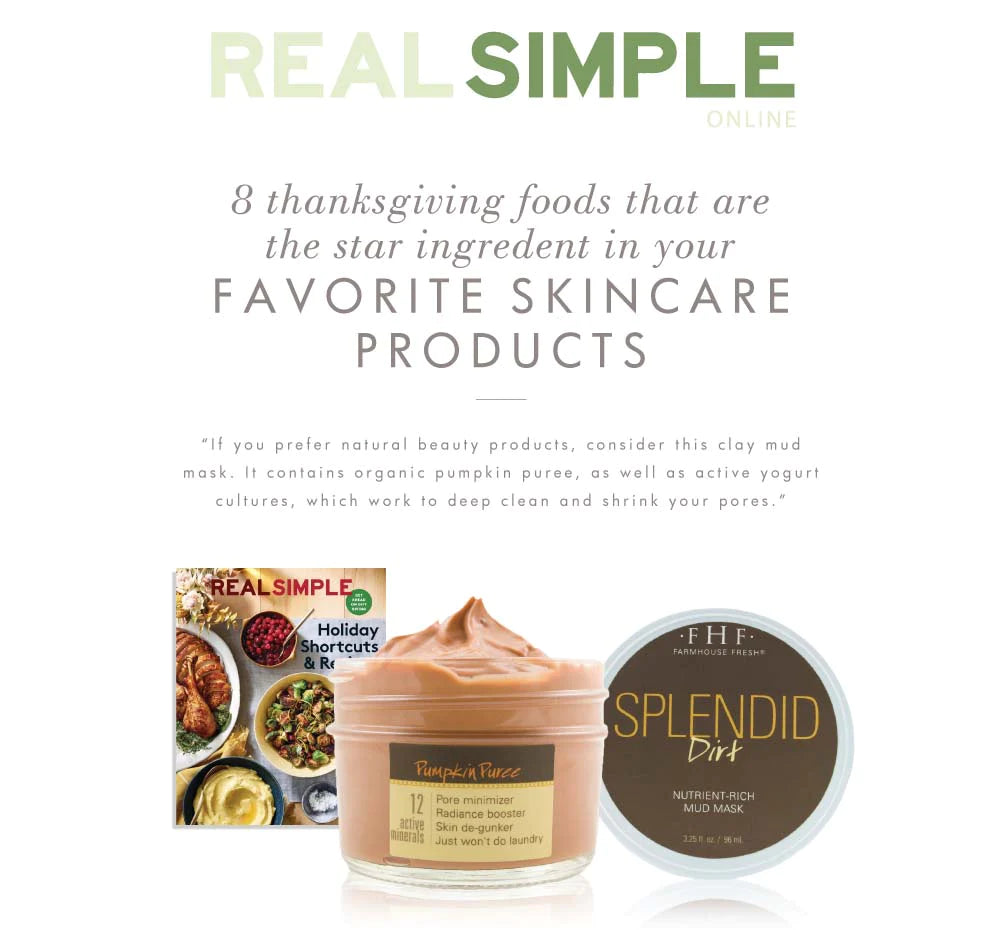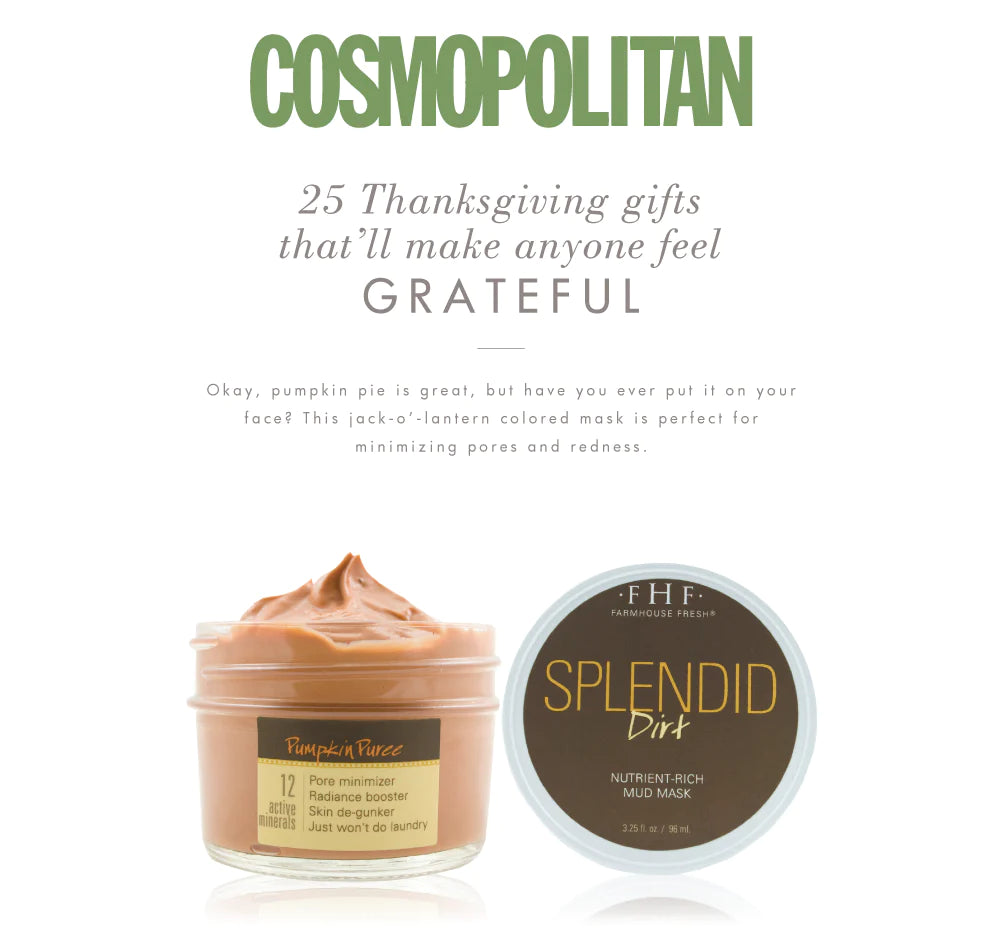 Splendid Dirt Nutrient Mud Mask with Organic Pumpkin Puree
Splendid Dirt Nutrient Mud Mask with Organic Pumpkin Puree
Pore-fecting magical dirt!
What it is: Red, blotchy, and oily skin – you've met your mask. Splendid Dirt® is a natural, nutrient-rich pot of fresh organic pumpkin puree full of enzymes, Illite and Bentonite clays,  and active yogurt cultures that instantly boosts overall radiance by deep cleansing pores, temporarily shrinking their look, and improving the look of uneven skin tones.

Why you'll love it: This thick blended puree goes on whipped and velvety smooth, bringing a party-orange pumpkin face that might scare the neighbors, but will seriously de-gunk and help purify the feel of even the most congested skin. Loved by Beauty Editors at Cosmopolitan, PeopleStyle Watch, Real Simple Magazine & many more! 

You'll feel Splendid Dirt® working (and it's addictive!) – a mild tingling sensation begins. The feeling is temporary, and as the mask dries, skin is actually left looking better than ever, decreasing the look of everyday blotchiness.

What fans say: "This product smells absolutely divine and the tingle feels amazing. Easy to remove and definitely cleaned out the pores." Read more reviews below!
Recommended for all skin types (except those with sensitive skin) to use at least once per week. We love it after using One Fine Day® Flawless Face Polish!
Your standards, surpassed.
An absolute must for:
Acne | Blemish Prone | Oily Skin | Pores
CHOCK FULL OF:
Illite Clay, Bentonite Clay, Yogurt, and Organic Pumpkin Puree. 
BENEFITS:
Bentonite and Illite clays have very high absorption capacity that pull impurities, toxins and excess sebaceous oils from the skin's surface. Tingles begin, bringing a radiant glow to skin through rich mineral content including calcium, potassium, magnesium, and silicon among others.
Pumpkin is high in antioxidants, vitamins A, C & E, and beta carotene, and excellent in replenishing an protecting skin's moisture barrier.
Yogurt is full of natural fats and lactic acid which nourish skin.
U.S. FARM HARVESTS:
Organic Oregon pumpkin puree.
U.S.-harvested clay.
FULL LIST OF INGREDIENTS:
Water/Eau, Bentonite, Yogurt, Glycerin, Illite, Cucurbita Pepo (Pumpkin), Magnesium Aluminum Silicate, Saccharomyces Ferment, Decyl Glucoside, Benzaldehyde, Benzyl Alcohol, Beta Caryphyllene, Eugenia Caryophyllus, Coumarin, Ethyl Butyrate, Heliotropine, Iso Amyl Acetate, Ho Wood, Maltol, Myristica Fragrans, Terpineol Alpha, Vanillin, Ricinus Communis, Citrus Sinensis Sanguinello, Ethyl Propionate, Zingiber Officinale, Xanthan Gum, Potassium Sorbate, 1,2-Hexanediol, Caprylyl Glycol, Phenoxyethanol.
Please be aware that ingredient lists may change or vary from time to time. Please refer to the ingredient list on the product package you receive for the most up to date list of ingredients.
SKIN TYPE:
Recommended for congested, oily & acneic skin. Not recommended for sensitive skin. 
HOW TO USE:
Apply a thin layer, let dry, and rinse with cool water.
CAUTIONS:
This is an active mask. You will feel it tingle and your face will temporarily flush with color as it oxygenates. Test on a small area first.
Your purchase help us rescue and care for forgotten, neglected and abused farm animals that come to live at our FHF Sanctuary. Follow their transformations
here.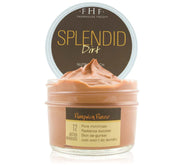 Splendid Dirt Nutrient Mud Mask with Organic Pumpkin Puree